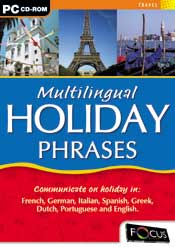 System Requirements
Windows® 95 / 98 / Me / NT / 2000 / XP
486 or equivalent
(Pentium recommended)
10MB Hard Drive Space
8MB RAM
640x480x256 colours
CD-ROM Speed 2x or faster
Any 100% Windows® compatible soundcard (Microphone optional)
Printer not required


Four categories to choose from.
---
Features over 200 phrases.
---
Simply select home language.
---
Hear the phrase spoken in your target language.
---
ESS059
Communicate on holiday in French, German, Italian, Spanish, Greek*, Dutch, Portuguese and English.

Multilingual Holiday Phrases is the essential PC CD-ROM to give you more confidence when communicating on holiday abroad.

This invaluable multimedia phrase book not only gives you instant access to over 200 commonly used phrases, it will actually "speak" the phrase for you so that you can learn how to pronounce it correctly. You can also record your own voice and compare the pronunciation.

This multi-directional program is ideal whether you are translating phrases from English to French or German to Portuguese or any other combination of the languages featured. Topics include Travel, Hotel, Shopping and General Phrases.

* covers basic words only.