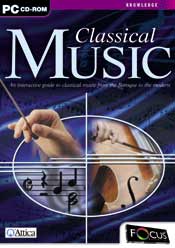 System Requirements

Windows® 95 / 98 / Me / NT / 2000 / XP
486 or equivalent
12MB Hard Drive Space
4MB RAM or higher
640x480x256 colours
CD-ROM Speed 2x or faster
Any 100% Windows® compatible soundcard
Printer optional (recommended)

Featuring over 60 composers, audio excerpts from over 200 works together with video performances.
---
Classical Music allows you to not only learn about great classical music and its creators, but also to simply sit back and listen.
---
Artists such as Bach, Strauss, Tchaikovsky and Vivaldi amongst others are brought to life through the power of your PC.
---
ESS096
An interactive guide to classical music from the Baroque to the modern.

This interactive PC CD-ROM provides an entertaining and informative guide to the most glorious music on earth!

Features include:
Composers - a comprehensive biography documenting the lives of the great composers with a list of each composer's works together with a play list of recommended pieces.
Compositions - includes detailed descriptions of over 200 familiar or famous pieces such as Bolero, Four Seasons and an accompanying audio or video excerpt for each.
Performance - program your own concert performance, choose the music type and music period for the composers that you want to hear, then settle down and listen to the show.
Timeline - provides a treasure-trove of information regarding births, deaths, compositions, performances, and other key events in the lives of great composers from 1659.