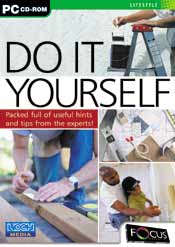 System Requirements
Windows® 95 / 98 / Me
(Not Compatible:
Windows® NT / 2000 / XP)
486 or equivalent
(Pentium® recommended)
1MB Hard Drive Space
8MB RAM
640x480x256 colours
CD-ROM Speed 2x or faster
16bit soundblaster or 100% Windows® compatible soundcard
Printer optional (recommended)


Electrics: Find all the answers on how to fit smoke detectors, burglar alarms and dimmer switches plus information on lights and plug sockets.
---
Storage: Fit wardrobes and shelves and build build-in cupboards.
---
Plumbing: Find out where to turn off the water, learn how to install washing machines and dishwashers and learn about leaks, pipes, values and much, more.
---
Choosing and Working with Power Tools: An in-depth analysis of the types of tools you are likely to need and useful advice on purchasing them.
---
Decorating: Basic skills such as painting, decorating and tiling are all covered.
---
Building: Repairing damp patches and replacing rotten woodwork are just two of the building concepts that are included in this section.
---
Carpentry: Discover, for example, what to treat your house with if you have rotten woodwork and what tools to use.
---
ESS178
Packed full with useful hints and tips from the experts!

Ideal for all DIY enthusiasts! This informative CD-ROM will help you with jobs such as painting and decorating, guidance on how to lay floor tiles, and what tools and materials you will need for a particular job. Jargon busters are used throughout the program to clarify the terminology used by professionals and every section in the Do It Yourself program can be printed out for future reference. Find out what you want to know about key areas of interest so that you can carry out the tasks safely and without any major problems.