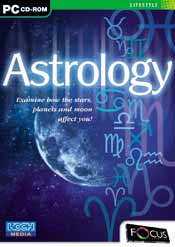 System Requirements
Windows® 95 / 98 / Me / NT / 2000 / XP
486 or equivalent
(Pentium recommended)
20MB Hard Drive Space
8MB RAM
640x480x256 colours
CD-ROM Speed 2x or faster
16bit soundblaster or 100% compatible soundcard
Printer optional (recommended)


Impress your family and friends by analysing their personality traits, abilities and talents.
---
Stunning graphics, full motion video, photographs, music and audio.
---
Includes clear explanations of the key astrological terms. Everything from the element signs of the zodiac, planets, ascendants, aspects and houses.
---
Discover the compatibility of individuals according to their star signs.
---
ESS179
Examine how the stars, planets and moon affect you!
Are you interested in horoscopes or curious as to how the elements and planets around the earth affect us in our day to day experiences?
Use this unique PC CD-ROM to cast a precise analysis of your personality based on your horoscope and the influence of the four elements: Air, Earth, Fire and Water.
Discover your ruling planet, your most inspiring colours and sensitive body parts! Find out which foods are the healthiest for you, and which is your most energetic day of the week.
Type in your date and time of birth to instantly receive your horoscope. The interpretation is clear and concise with explanations of key terms. Search for a compatible horoscope partner according to your personal reading.