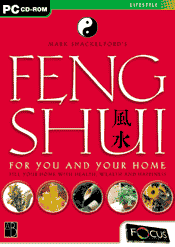 System Requirements
Windows® 95 / 98 / Me / NT / 2000 / XP
486 or equivalent
12MB Hard Drive Space
16MB RAM
800x600x16bit colours

CD-ROM Speed 4x or faster

Soundcard not required
Printer optional (recommended)


Find the lucky areas within your home.
---
Advice on the best Feng Shui enhancements.

---
Daily guidance on all aspects of your life.

---
Discover how compatible you and your partner really are.

---
Comprehensive tips and information for you to follow.

---
Provides personal Feng Shui readings for you, your partner, family and friends.
---
Understanding Feng Shui
Covers: Feng Shui Compass School Pa Kua, Black Hat Sect Ba Gua, I Ching Divination, Monthly Almanac, Chinese Horoscopes, 9 Star Ki Horoscopes, Four Pillars plus many extra hidden features.
ESS416
The key to unlocking the secrets of Feng Shui
'Feng Shui for You and Your Home' as been designed both as an introduction to Feng Shui and Chinese Astrology and as a powerful Feng Shui interpretation tool. For the first time user, this program will give an insight into the world of Feng Shui, yet it also contains enough information and detail to keep even the most dedicated Feng Shui practitioner or consultant interested.

Fill your home with health, wealth and happiness.
Enjoy learning how to apply the principles of Feng Shui to achieve harmony in your own home whilst adding richness, comfort and balance to release the flow of good Ch'i – the most beneficial force of Feng Shui. Fun and immersing with 64 specially selected beautiful scenic backdrops, 'Feng Shui for You and Your Home' will enable you to assess every aspect of your life. Discover how to use objects, colour, light and space to promote feelings of well being and harmony.
Consult the Monthly Almanac based on Chinese Astrology to discover advice and instruction for everyday life with a different fortune reading for each day.
Reviews & Awards
"I have been using 'Feng Shui for You and Your Home' and I have to say it is truly incredible. It is one of those programs that you keep finding more useful tools as you go along. It really is a great piece of software and from a Feng Shui point of view very accurate and simple to use."