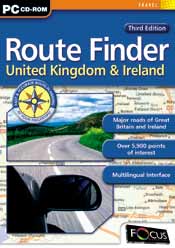 System Requirements
Windows® 95 / 98 / Me / NT / 2000 / XP
Pentium 200 MHz or equivalent (Pentium 600 recommended)
160MB Hard Drive Space
64MB RAM
800x600x256 colours
CD-ROM Speed 8x or faster
Soundcard not required
Printer optional (recommended)
Internet not required


All the cities of Great Britain and Ireland.

---
New up-to-date maps.
---
Over 5,900 points of interest such as airports, hospitals, train stations and park and ride.
---
Various route options to suit your needs – choose from the fastest, shortest, cheapest or most economical route.
---
Personal settings that take into account your own particular style of driving, which is then automatically incorporated when the routes are calculated.

---
Add roadblocks – identify roads on the map that you wish to avoid – for example, road works or special events.

---
Print out your chosen route and directions and keep in the car as your own personalised copy.

---
Run the program in one of 14 languages.
---
ESS419
Various route options to suit your needs.

Planning a journey can be a nightmare when you know you'll hit traffic trouble spots! Endlessly ploughing through atlases and maps trying to find alternative routes can be a real painstaking experience.

Route Finder UK & Ireland can put an end to such dilemmas, providing you with a fast, no-fuss route planner.

Enter the start location and destination of your journey, or if you're travelling to several places, simply click on the "via" options and select your alternative destinations, then let Route Finder calculate the best route for you. Plus for even more efficient planning, Route Finder will also calculate your fuel costs, approximate journey time and the total distance travelled.

Whether you are trying to locate far removed places, or you are planning and costing a business or pleasure trip, Route Finder UK & Ireland has all that you need.

So don't stall, give fast, fuss-free journey planning the green light!

Also available in the series, Route Finder Europe.