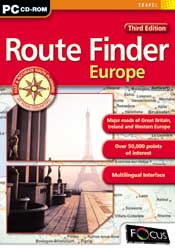 System Requirements
Windows® 95 / 98 / Me / NT / 2000 / XP
Pentium 200 MHz or equivalent (Pentium 600 recommended)
160MB Hard Drive Space
64MB RAM
800x600x256 colours
CD-ROM Speed 8x or faster
Soundcard not required
Printer optional (recommended)
Internet not required


All the cities of Great Britain, Ireland and Western Europe.
---
New up-to-date maps.

---
over 50,00 points of interest such as ferry terminals, train stations and rest areas.

---
Various route options to suit your needs – choose from the fastest, shortest, cheapest or most economical route.

---
Personal settings that take into account your own particular style of driving, which is then automatically incorporated when the routes are calculated.

---
Add roadblocks – identify roads on the map that you wish to avoid – for example, road works or special events.

---
Print out your chosen route and directions and keep in the car as your own personalised copy.

---
Run the program in one of 14 languages.
---
ESS420
Planning a journey abroad can be a painstaking experience, ploughing through endless volumes of atlases and maps and flicking between the pages of different countries. Route Finder Europe takes the stress out of this process with its fast and efficient way of planning European travel!

Simply enter your start and destination place names, and Route Finder Europe will calculate your journey time, mileage, fuel costs and directions. If you're travelling to several places, simply click the "via" option and select as many destinations as you require. Easy to use, this comprehensive planner of the European road network is the perfect companion for travelling abroad.

Also available in the series, Route Finder UK & Ireland.