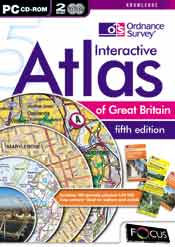 System Requirements
Windows® 95 / 98 / Me / NT / 2000 / XP
Pentium 90 MHz or equivalent
4MB Hard Drive Space
16MB RAM
(32MB recommended)
800x600x16bit colours
CD-ROM Speed 4x or faster
Any 100% Windows® compatible soundcard
Printer optional (recommended)

Internet optional,


100 specially selected 1:25 000 scale map extracts* covering many of Britain's National Parks and ideal walking areas, from the Scottish Highlands through to Cornwall. Features include picnic areas, viewpoints and rights of way information.

---
100 specially selected 1:50 000 scale map extracts* covering many general places of interest.

---
20 new town and city centre plans*, giving a total of 83.

---
6 new airport plans*, including Stansted, Manchester and Glasgow, bringing the total to 10.

---
5 new breathtaking fly-throughs which include Lulworth Cove, Lundy Island and Glen Coe.

---
50 new photographs of places of interest, taking the total to over 500.

---
The Great Britain topic quiz – answer selected questions from one of 8 new topics, which include mountains and hills, places and people and around the coast.

---
The Around Britain quiz – a general knowledge quiz about all regions of Great Britain.

---
A gazetteer containing a fully searchable listing of over 42,000 place names.

---
Updated map skills tutorial – aimed at increasing your understanding and interpretation of maps.

---
Inclusive site licence – can be used on a network at no extra cost.

---
Web link facility for additional mapping.

---
* These map extracts cover selected areas of Great Britain and are limited in their coverage.
---
ESS491
2 CD SET
Broaden your geographical knowledge of Great Britain.

Do you know where to find Snails Hill and Sanda Island? Could you find your way to Cape Wrath? The Ordnance Survey Interactive Atlas will take you above and beyond your immediate locality to broaden your geographical knowledge of Great Britain.
This two PC CD-ROM set covering the whole of Great Britain brings you all the features of the latest vector mapping data.
Disc A contains 1:250 000 scale mapping, interactive symbols, 100 specially selected 1:50 000 scale map extracts*, photos, fly-throughs, town plans*, a map skills section and the Quiz Zone™.
Disc B contains 100 specially selected 1:25 000 scale map extracts* that are ideal for walkers and cyclists alike, covering areas such as the Lake District, the Peak District, Snowdonia, Yorkshire Dales, Exmoor and the New Forest, to name but a few. So as well as using the maps to plan the routes yourself, you can also study places of interest around the area, giving you the ultimate opportunity to make detailed plans for trips, days out or walks.
Data scales
The whole of Great Britain at
1:250 000 scale, showing features such as contour lines and spot heights. Selected areas can be examined in fine detail with 1:50 000 scale map extracts* on Disc A and 1:25 000 scale map extracts* on Disc B.

Town and city centre plans
There are 20 additional town plans* – taking the total to 83 – covering places such as Wolverhampton, Torquay, Huddersfield, Southport and Penzance.

Advanced layers
Greater flexibility over previous editions to customise the map content by using the expanded layer control facility to switch off unwanted information.

Personalise your maps
Place your own map pins on areas of special interest. Save favourite map views using the bookmark facility or add text or web links to the pins.

Printing
All maps can be printed as standard print, with the option of printing the 1:250 000 scale mapping as a high-quality print. Maps can also be saved to file as bitmap images.