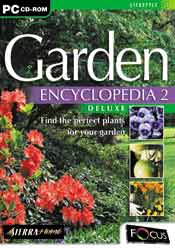 System Requirements
Windows® 95 / 98 / Me / NT / 2000 / XP
486 or equivalent
(Pentium recommended)
8MB Hard Drive Space
10MB RAM
640x480x256 colours
CD-ROM Speed 4x or faster
Soundcard optional (recommended)
Printer optional (recommended)


A comprehensive encyclopedia of more than 3,000 annuals,
perennials, bulbs, vegetables, ground cover, trees and shrubs.
---
Export additional plants into 3D Landscape 2, the best selling landscape design software.
---
Powerful search tools help you find plants fast.
---
An extensive record of all plants complete with attributes, which can be printed out in full colour.
---
Video clips on plant care and selection.
---
Pest and disease control information.
---
Audio pronunciation of botanical names.
---
List plants by common or botanical names.
---
Make an inventory of your garden.
---
ESS323
Have you ever wanted to find plants that bloom when you want, in your favourite
colours? Or have you ever wanted to know more about your favourite flowers and how to care for them? With detailed information on over 3,000 plants, Garden Encyclopedia 2 is the fast, easy and fun way to discover the ideal annual perennial,
vegetable or bulb for your garden. Whether you're looking for something exotic, fragrant, or simply something that will bloom in the shade, Garden Encyclopedia 2 helps you find it fast. Browse through the individual plant records or search by attributes such as flower colour, plant height, climate zone, blooming season and sun requirements. Create Personalised Lists and use the photo album to instantly review your plant list and search results. Add notes to personalise your plant records – including local garden centres, prices, planting dates, secret growing tips. Create custom plant lists to take to the nursery, keep track of your garden's plants, or maintain a seasonal planting list.

Reviews & Awards
"...Check out this excellent multimedia gardening reference… The program's search screen is well-designed and easy to use… There are other electronic gardening books on store shelves but none are as easy to use or as helpful as this one… but it's practically indispensable for finding the right plants for your garden." Computer Shopper