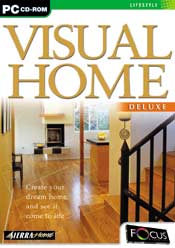 System Requirements
Windows® 95 / 98 / Me / NT / 2000 / XP
Pentium 75 or equivalent
20MB Hard Drive Space
8MB RAM
(16MB recommended)
640x480x256 colours
CD-ROM Speed 2x or faster
Any 100% Windows® compatible soundcard
Printer optional (recommended)
Internet optional, (required for downloading optional updates) Internet connection required


Realistic 3D views and WalkAbout™ enables you to see rooms in detail from any angle.
---
'Quick Design Wizard' helps you create your floorplan on screen in seconds.
---
Roomblocks provide the easiest way to create, move and decorate entire rooms.
---
Visualise your design using over 2,000 models of real manufactures products.
---
View 2D and 3D simultaneously.
---
Metric or Imperial measurement.
---
Download related information on furnishings and appliances, directly from the Internet.
---
'Shopping List' automatically tracks your costs as you design, to keep you on budget.
---
The 'Exterior Design' feature allows you to change walls, roofing, trim, landscape and scenery.
---
Save your walk-throughs as AVI video files and share your home designs over the Internet.
---
ESS324
Why employ an expensive professional designer when you could design your dream home on your computer?

Now you can design your home right down to the cushions on the sofa! In just minutes, redecorate, remodel, expand or even build your home from scratch, saving you valuable time and money. Experiment with thousands of combinations of furnishings, sizes, colours, materials and styles including appliances, furniture, fixtures and carpeting. Change wall coverings, flooring, or ceilings instantly! See the results in photo-realistic 3D, then take a virtual tour of your new home using the latest up-to-date WalkAbout™ technology.