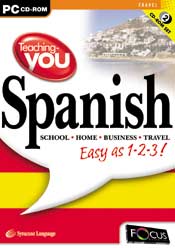 System Requirements

Windows® 95 / 98 / Me


(Not compatible:
Windows® XP)
75 or equivalent
10MB Hard Drive Space
8MB RAM
640x480x256 colours
CD-ROM Speed 2x or faster
Any 100% Windows® compatible soundcard with Microphone
Printer not required
Internet optional, Internet connection required


Contains over 30 activities and conversations


SPEAKING
LISTENING
READING
VOCABULARY
CONVERSATION
PRONUNCIATION
REVIEW / RECALL
---
ESS352
2 CD-ROM SET
SCHOOL • HOME • BUSINESS • TRAVEL

Always dreamt of speaking a foreign language? Then why not start today! Learning another language is as easy as 1-2-3 with our award-winning immersion approach and speech recognition technology.
Learn listening, reading, and speaking skills, quickly and easily, without boring repetition. 'Teaching-you' a foreign language makes language learning fun and rewarding for the whole family. It's practically like having a native speaker to talk to!

A Sound Start
Master key words and phrases.

Multimedia Glossary
2,200 words-text, photo, translation and audio.

Speech Recognition*
Speech Meter lights up as your pronunciation improves.

Record/Playback*
Hear yourself compared to a native Spanish speaker.

*Microphone required: not supplied.