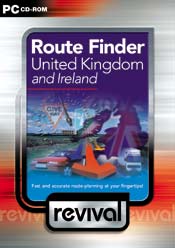 System Requirements
Windows® 95 / 98 / Me / NT / 2000 / XP Home
Pentium or equivalent
4MB Hard Drive Space
8MB RAM
(16MB recommended)
640x480x256 colours
CD-ROM Speed 2x or faster
soundcard not required
Printer optional (recommended)
Internet not required


Covers the UK and whole of Ireland.

---
Print out your chosen route and keep it in the car for future reference.

---
Covers 35,000 locations and 180,000 miles of road.

---
Provides five levels of route information.

---
Includes a 'Zoom' facility on the map section.

---
All road network information comes from AND which is the leading supplier of European Digital Mapping data to government and industry.
---
REV003
Fast and accurate route-planning at your fingertips!

Planning a journey can be a nightmare when you know you'll hit traffic trouble spots! Endlessly ploughing through atlases and maps trying to find alternative routes can be a real painstaking experience.

Route Finder – UK & Ireland can put an end to such dilemmas, providing you with a fast, no-fuss route planner.

Simply enter the start location and destination of your journey (using place names or UK postal districts) and within seconds, Route Finder will calculate your optimum route and alternative journey plans! For even more efficient planning, Route Finder will not only calculate the best route, but also your approximate time of arrival and the number of miles. If you're travelling to several places, simply click on the 'via' option and select as many destinations as you require.

Whether you are trying to locate far removed places, or you are planning and costing a business or pleasure trip, Route Finder – UK & Ireland has all that you need. So don't stall, give fast, fuss-free journey planning the green light!