cctv camera housings and cases
External CCTV Camera housing + Heater + Fan
(Part number: 15-AH23)
External camera housing with heater and fan, powder coated aluminium housing with flip top lid
The 15-AH23 is a high quality aluminium external camera housing. The housing is fitted with a 240v heater and fan to provide a stable environment for CCTV cameras in all conditions.
Features include:-
Aluminium construction
Built in heater
Built in Fan
240 volt operation
Flip up lid for easy access to camera
This Housing requires a fixing bracket the 15-B006 is recommended


SPECIFICATIONS

Type: Aluminium IP65
Fan: Yes
Heater Yes
Dimensions: H 100mm, D 420mm
Weight: 3 Kg.
Power Supply: 240 Volts A/C
Operating Temperature: -10° to 60°C
build_table('tricks',array('15-AH23')); ?>
External Bracket
(Part number: 15-B006)
External bracket suitable for external housings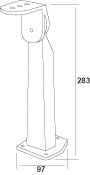 The 15-B006 is a external brackets for fixing cameras externally with a suitable external camera housing (15-AH23).

Features include:-
Standard housing fixing holes
Base plate with fixing screw holes
Metal construction
Housing position adjustment
Maximum Weight 10 KG
SPECIFICATIONS

Type: External
Dimensions: H 283mm, D 97mm
Max Load: 10 Kg.
Weight: 800g.

build_table('tricks',array('15-B006')); ?>
External CCTV camera cases
Metal CCTV camera housings for internal or external use. Made from aluminium and plastic they are suitable for mounting body cameras in. Multi adjustable internal camera bracket, grommeted cable entry hole, plastic screen.
If you intend to use these cases in an exposed position we would recommend they are assembled with a small amount of silicon sealant to provide optimum protection.
Cases are 100x70x280mm
heavy duty cctv camera bracket
Multi angle heavy duty adjustable CCTV camera bracket suitable for indoor or outdoor use. Bracket measures 200mm long and is made of metal. The wall plate is circular, 90mm in diameter with 3 fixing holes.
CCTV body cameras for use with external case
ccd colour SC-688 body camera
High quality colour CCTV body camera measuring 110x60x50mm. Supplied with an 8mm lens as standard. Optional bracket
Built in Audio
.15lux
CCD camera
12vdc
200ma
480 lines
s/n ratio >48 db
1v P-P output
build_table('cctvstuff',array('EE1','EE7','EE8','EE3','EE4','EE5')); ?>
Small CCTV body camera with a choice of lens
The 508C colour body CCTV camera measures 100x40x40mm has auto iris capability, mirror picture function. Supplied with an 8mm lens as standard.
12vdc
200ma
Effective pixels 582X628
Resolution 380 lines
Automatic aperture lens
Mirror function
PAL
Back Light Compensation
MLR start/close option
build_table('cctvstuff',array('EE2','EE7','EE8','EE3','EE4','EE5')); ?>
jmk jk309 colour cctv camera
A small compact colour CCTV camera measuring just 35x28x30mm (camera body) Camera is supplied complete with mounting bracket, microphone and easy connect leads.

Built in audio
Colour
380 line resolution
PAL
0.2 lux
+18db sensitivity
Effective pixels 628x582
Power source 6-12vdc
Power consumption 200mw
build_table('cctvstuff',array('EE16')); ?>