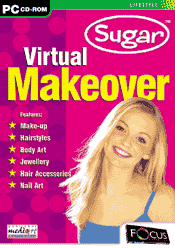 System Requirements
Windows® 95 / 98 / Me / NT / 2000 / XP
Pentium 75 or equivalent
35MB Hard Drive Space
16MB RAM
800x600x16bit colours
CD-ROM Speed 2x or faster
Soundcard recommended
Printer optional (recommended)
Internet optional, Internet connection required

How does it work?
It's easy! Simply scan in a photo of you or your mate or, if you don't have a scanner, use a digital camera, import an image from a KODAK Picture CD, or use one of the models provided. Then you're ready to start creating those sassy styles you've always dreamed of!
---
Plus!
Once you've finished your virtual makeover, you can e-mail it to a mate, so they can make their own changes to your new style. You can also print out any of the looks you or your friends have created, so you can file 'em for future reference, or take them with you when you hit the high street – it's the only shopping list you'll need!
---
ESS330
Create sensational looks at the click of a button...

Fancy a new look, but not sure what to go for? Well, now you can discover your dream style with Sugar's glam-tastic virtual reality makeover studio!

Be beautiful!
Suss out what make-up styles work for you by using 'Make-up with Attitude' from Miners International. You can change your image for an instant or for good as you slick on luscious lippy, dust on dazzling eyeshadow, match up your mascara and blend in babelicious blusher. It's never been easier to experiment with cool colours and gorge hairstyles. Best of all, it's totally risk free!

Be bold!
Whether you decide to glam it up, go hip 'n' funky, or keep it casual and cool, Claire's Accessories has the perfect jewellery to suit your look. Choose from mountains of must-have earrings and hairbands, or get your mates round to try out the latest tattoos, body rocks, stick-on gems and heaps of other cool stuff. It's fun, easy and hassle-free. If you don't like your new look, simply start again!

Be prepared!
Whether you're hitting the town with mates or going on a hot date with your dream boy, Sugar's Virtual Makeover can help you find a look that'll knock 'em dead! And there's no more getting hot 'n' bothered from changing a trillion times before you leave the house – just sort your style on the computer, slip on your clothes and go!