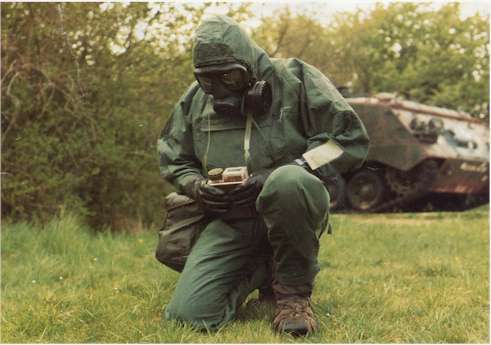 Click to enlarge
BRAND NEW MILITARY ISSUE DOSE METERS (radiation detectors)
Current NATO issue

Standard emergency services unit

Used by most of the worlds Military personnel

New and boxed
Normal retail price £400, BULLS bargain price just £75.90
build_table('tricks',array('SIEM69')); ?>
Simplest possible operation • No routine maintenance • 0 - 300 cGy/h • Large 4 digit dose rate display • Automatic self-test • Long battery life • Military environmental specification The PDRM 82 M is a portable, lightweight, water resistant gamma radiation survey meter to measure radiological dose rate in the range 0.1to 300 centigrays per hour in air. The Geiger Muller (G.M.) tube detecting unit is energy and polar response corrected. The radiation level is displayed on a Liquid Crystal Display. The microcomputer corrects for the non-linearity of the G.M. tube response. The instrument is powered by three international C size batteries giving typically 400 hours operation in normal conditions. The dose rate meter PDRM 82M, designed and selected for the United Kingdom Government, has been fully evaluated to satisfy a wide range of environmental conditions and is nuclear hard. The construction enables the instrument to be easily decontaminated. The instrument is designed for radiation surveys for post incident monitoring. Used in a mobile role, either carried by troops or in military vehicles for rapid deployment enabling radiation hot spots to be quickly located.
Specifications
Range
0 - 300 cGy/h in 0.1 cGylh increments. Over-range to 1500 cGy/h - indicates flashing 300.
Accuracy
+/-20% of true dose rate +0 1 cGylh, 0 - 100 cGy/h. f30% of true dose rate, 100 - 300 cGy/h.
Energy Response
0.3 MeV to 3 MeV - within f20% (Ra 226). 80 KeV to 300 KeV - within i40% (Ra 226).
Detector
Energy compensated Halogen quenched Geiger Muller Tube.
Controls
Combined battery access and ON/ OFF switch. Batteries 3 International standard C cells.
Weight
560 grms.
Operating Temperature Range
-30deg C to +60 degC.
Indications
High contrast 4 digit LCD. Battery low indication - typically 10 hours battery life remaining. Dose rate Rising/ Falling. Fault indication - 'FAIL' display.
Size
175 x 135 x 50mm.
ex mod radiation detectors from bull electrical

These are small cylindrical units that would fit in your top pocket measuring just 115 x 15mm.
If you hold one up to the light and look through it you will see a graduated scale with a small needle on it, this is an indication of the radiation level received to date. The units are resettable by the application of a voltage to a pin (see chargers below) they would probably need resetting every 10 years. Included with each unit is a copy of the restricted MOD field manual
As with most of the MOD equipment now becoming very collectable we expect these items to appreciate in value whilst also serving a practical purpose.
build_table('tricks',array('RAD1 ')); ?>
---

Click image to enlarge
Hand operated chargers for the above units. 180x105x105mm. Label says
CHARGING UNITS, DOSIMETER
QUARTZ-FIBRE, NO 2 MK2
J.S.CAT.NO 6665-99-911-0389
Unused and boxed.
build_table('tricks',array('GCR3')); ?>
CURRENT ISSUE
NATO wrist mounted
scintillation radiation detectors

Click to enlarge
Interesting new line! These are small modules that strap on your wrist (strap supplied) and monitor radiation.
We have stripped one apart and they contain a small piece of "crystal" this could be something like Naphthalene or any other rare radiation sensitive crystal. When radiation strikes the crystal, it scintillates and a small amount of light is produced in the crystal in reaction to the radiation exposure. That light is then picked up by a micro pv cell measuring about 2mm square!
Also in the unit is a sheet of foil, a circular metal plate (insulation between the two) and a small pair of additional parallel metal plates. We don't know how they work but we think that when the persons skin matches the colour of the watch they are unfit for duty!!!
NATO part no is 6665-99-225-2314 any information gratefully received!!
Alternatively if you wish to buy one they are £12 each
build_table('tricks',array('NATO ')); ?>
Morse keys

Click to enlarge
Standard ex uk military morse key.
build_table('tricks',array('morse')); ?>
RUSSIAN GAS MASKS
These are new and boxed, Russian, believed to be SHM series, thin grey rubber mask that provides an instant good seal because their are no straps. We understand these masks take the standard NATO filter.
Please be aware that we cannot guarantee the effectiveness of these masks, as such we feel that we should sell them on this understanding.
build_table('tricks',array('GASM')); ?>
Comes boxed individually
with one sealed replacement filter. NATO issue.
Protects against all known chemical and biological
agents. Meets or exceeds Israeli Army and U.S. Army C2
Filter requirements.
Please Note: Filter life is dependent upon the
environment in which it is used as well as the type of
agent or hazard exposure. Typically, each filter is
designed to last 5-8 hours.
Manufacturer's Design Specs available upon request.
Please Note: Although these are true military NBC
rated and NATO Spec. gas masks and filters that are
new, we can only sell these as "novelty items". Gas
Masks and Filters are Non-returnable. Exports are
Subject to State Department Export
Controls/Restrictions and Customs approval.