When the fish is pulled from the mouth of the "Whale" (which is in fact more of a Giant Goldfish than anything else) to the extent of the almost invisible thread and released on a smooth surface, the Whale appears to chase, catch and gobble it up. Particularly entertaining as the small fish rarely runs in a straight line. build_table('tricks',array('TX284')); ?>

The Zebra gallops in erratic circles, throwing the driver about in the seat of his cart. A copy of an old Lehman design. Clockwork, 21cm. build_table('tricks',array('TX285')); ?>
The welcome return of a popular line which has been unavailable for some time. As the seal runs in a circle, the ball and propeller revolve. Clockwork, 15cm.
As the line proceeds in a large circle, drawn by the parent, the babies spin round and round as the result of an ingenious cogged plate turned by their wheels. Clockwork, 30cm.
Rare, maybe unique, low-geared motor produces a slow and ponderous action with body rocking gently from side to side and antennae shaking. Clockwork, 8cm tall.
High quality friction drive car. Robust and detailed. 30cm in length. build_table('tricks',array('TX327')); ?>

Runs in a circle. Clockwork, 19cm.
ICE CREAM VENDOR
(right)
Legs pedal furiously as he goes. Soft rubber-like head. Clockwork, 10cm.
build_table('tricks',array('TX366')); ?>


---
ROLLING BUTTERFLY
All metal except wheels and antennae. Its wings flap up and down as it moves, stopping from time to time to perform backwards somersaults. Clockwork with 18cm wings.
build_table('tricks',array('TX294')); ?>
Tinplate clockwork toys for collectors
WARNING. The clockwork toys on this page are not children's playthings and do not comply with Toy Safety legislation.
---
CZECH REPUBLIC
---
TURNING CLOCKWORK LADYBIRD
Moves in a circle, and cleverly will not fall off the table. The keyhole is subtly disguised as one of the spots. Clockwork, 10cm.
build_table('tricks',array('TX495')); ?>




TRACTOR AND TRAILER
Long-run motor with three forward gears, reverse, brake and steering-wheel operated steering. Heavy-duty, robust and well finished. The remarkable, in fact perhaps unique, feature is the gearing. The tractor can reverse, of course, and not only does it travel at different speeds in each of the three forward gears, but its load-pulling ability also really changes. This must be by far the most ingenious piece of precision engineering in any tin-plate toy in current production. Clockwork, 33cm overall.
build_table('tricks',array('TX460')); ?>
---


Josef Wagner / Germany

Josef Wagner operates in a village near Nuremberg, the original clockwork toy-making centre of Europe. It's a real family business: two generations, both living on the premises. From outside it looks like the smithy, and perhaps was. Inside, improbable machines clank and whirr. One cannot believe that anything complies with current regulations concerning Health and Safety, but the staff seem happy enough, with all their limbs in place, as does the cat. "All is how it was," says Herr Wagner, and we believe him.
---
CLOCKWORK CATCHING ELEPHANT
The long-running motor spins the propeller on the elephant's head and turns the augur which carries the balls upward. At the top they roll down the chute, drop through the elephant's basket, and run down the slope back into circulation. It is particularly colourful and interestingly-printed, a decorative ornament even for non-collectors. Clockwork, 9" tall.
build_table('tricks',array('TX400')); ?>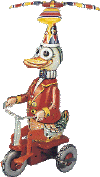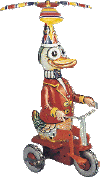 DUCK ON TRICYCLE
This is a re-make of an old German original and is of the same high quality as the rest of the range. Although use of plastic for its legs is regrettable, the mechanism is exceptionally efficient allowing several revolutions. Clockwork, 20cm.
build_table('tricks',array('TX418')); ?>
TINPLATE GLOBE CAROUSEL
The Globe Carousel is a good example of one of the few high-quality tin toys being made in Germany. The powerful pull-and-release mechanism gives a long, quiet run making the boats fly out horizontally as in the real thing. Sturdy with excellent print detail and finish, they are an attractive ornament even when not in motion. 18cm tall.
build_table('tricks',array('TX413')); ?>


RUSSIA
There is a tradition of tin toy making in several parts of the former Soviet Union, and their products are distinctively old-fashioned in both design and construction (and therefore often passed off as 'antiques'). Recent political and economic reform make this a precarious source, and many fine models are no longer obtainable.
DANCING DOLL
The Dancing Doll is some 6" tall, made in Russia, well finished and finely printed. Propelled by an unusual and long-running motor, she glides gracefully on hidden wheels, doing pirouettes in both directions and moving her head gently from side to side as she goes, all very pretty. Clockwork.
Now also available in two different colours!
A predominately green version (TX552), and the 'Ice Maiden' (TX551) pictured right.
build_table('tricks',array('TX550')); ?>
build_table('tricks',array('TX552')); ?>
build_table('tricks',array('TX551')); ?>
---



MINI BUS TRACK
The raised tray has two revolving circles on each of which travel three miniature buses which spin round passing in and out of the tunnels. Delightfully old-fashioned with evocative and detailed printing. Well-finished and solid. A small lever controls the starting and stopping of the mechanism. Clockwork, 23x10cm.
build_table('tricks',array('TX561')); ?>


Tinplate clockwork toys for collectors
---
WARNING. The tinplate clockwork toys on this page are not children's playthings but collectors items and do not comply with Toy Safety legislation.
---
INDIA
There are several small factories in India which make fascinating clockwork tinplate toys from time to time. Production is always spasmodic, though, and at present the range is very limited.
---
CLOCKWORK POLICE PATROL
The small patrol vehicle races round the bends and in and out of the tunnel completing at least three laps when fully wound. Clockwork, 38 x 17cm.
build_table('tricks',array(' TX675')); ?>

---
* TWO NEW TINPLATE POP-POP BOATS FROM INDIA *
Dirty and smelly with sharp edges! What more could you ask of a tin toy? An Indian company has recently started producing small quantities of unusually designed, oil-burning pop-pop boats. The workmanship is not the world's best, and there are many small scratches and flaws in the printing. But they are packaged in nicely-dated if not very sturdy packaging, and include a pipet for injecting water into the pipes, oil tray, wicks, and they have an adjustable rudder. None of the other pop-pop boats we have found over the years have been comparable, in size or design, and these boats are already 'making waves' in the world-tin-toy collectors' market.
---
POP POP TUG BOAT
Unusual deep-bow design. 16 x 8 x 8cm.
build_table('tricks',array('TX710')); ?>

---
TINPLATE TITANIC
Huge. Boasted as the world's largest commercially-made Pop-Pop Boar. 39 x 8 x 7cm. (Waiting list for this item)
build_table('tricks',array('TX700')); ?>

---
Nikko Kogyo Kitahara From Japan
These are made with the original Nikko Kogyo tools from just-post-war Japan. Teruhisa Kitah, a Japanese sports-goods dealer, is also a fanatical collector of clockwork tin toys, and after obtaining the tooling is now reproducing these clockwork models. Each edition is strictly limited to 1,000 pieces worldwide and are very difficult to obtain. They are beautifully lithographed with vivid colours and contain the most complex and ingenious movements of any of the tin toys we offer.
---
CLOCKWORK NEWS DOG
The News Dog rapidly rings his bell while gradually turning his head and swinging the newspaper from left to right. Clockwork, 15cm.
build_table('tricks',array('TX615')); ?>

---
SCHYLLING USA
The Schylling brothers in the USA design revivals of old tin toys, and have them made to high standards in China and Korea.
---
TINPLATE GOLFER
This delightful little thing, 7" long and made entirely of metal, is a remake of a 1920s favourite. Withdrawing and then releasing the sprung knob makes the figure putt the steel ball-bearing (three provided) up the slope and, with luck, or skill, into the recess.
build_table('tricks',array('TX599')); ?>

---

TINPLATE SAN FRANCISCO EXPRESS
Last year Schylling produced a strictly limited edition toy called New York Express. Fortunately, although it is still limited, we have enough of this superior music box version to offer it in the main catalogue. "I Left My Heart in San Francisco" plays while the plane flies overhead and the train proceeds through the tunnels. Large, chunky and extremely unusual. China, Clockwork, 23cm.
build_table('tricks',array('TX592')); ?>


---
CLOCKWORK AERODROME
The clockwork mechanism, operated by a pull-and-release lever in the base, makes the aeroplanes fly rapidly round and round on their wire arms, propellers whirling. Entirely metal apart from the brightly coloured transparent plastic propellers. An attractive, unusual and well-finished model. Korea, 18cm.
build_table('tricks',array('TX590')); ?>


---
TINPLATE FLYING SAUCER
Schylling have re-made this item based on the 1950's original. It is slightly larger at 13cm, and with more colourful printing. As you push it along on its hidden wheels the central globe and springy antennae revolve. China, Friction. build_table('tricks',array('TX597')); ?>
Tinplate collectors toys from Spain
We are now able to offer the superb hand-assembled clockwork tin toys of Classicos Paya which are produced from the tools and dies which were used to make the originals in the early part of the century.

---
WARNING. These expensive toys are collected by those who appreciate their authenticity, a feature extending to their clockwork motors, also made exactly as originally which means that they are not often very effective by late 20th century standards! They are things of historic interest, beauty, intricacy and ingenuity rather than high-powered working models.
These items therefore are intended for adult collectors only. They are not made as children's playthings, and they do not comply with current Toy Safety legislation.
All models shown below are very large (all sizes are approximate), and all have a key-wound clockwork motor. The original year of production is shown by the products name.
---
PAYA / SPAIN
Paya have been making clockwork tin toys near Alicante since 1902. At first they produced under contract for the better known German and French brands, but by the 1920s were enjoying world-wide success with their own models. General production continued until 1985 when it was decided to concentrate on remaking all their old classic toys on a limited basis. Only 5000 of each model is made, and a numbering certificate to that effect is provided with each toy. An attractive feature of Paya's products is the superb boxes in which they come.
---

SEDAN (1934)

Opening doors and boot reveal fine interior printing and moveable front seats. Steering wheel adjusts the front wheels' angle. Probably one of the biggest clockwork tin plate cars available. Clockwork, 50 cm long.

build_table('tricks',array('TX132')); ?>
---

TUF TUF MOTORCYCLE (1936)

Clockwork, spectacular, and noisy. The basic noise mechanism placed under the motorcycle produces a characteristic 'tuf-tuf' sound, giving the motorcycle its name. Clockwork, 32 cm long.

build_table('tricks',array('TX138')); ?>
---

TRAM (1925)

A black and white tram. It includes both a clockwork motor and battery-powered lights. Clockwork, 32cm long.

build_table('tricks',array('TX145')); ?>
---

PLEASURE LINER (1931)

One of a range of three boats. It moves in a circle driven by its wheels, the bow rising and falling to simulate wave-action, the result of an off centre front wheel axle. Clockwork, 38 cm long.

build_table('tricks',array('TX117')); ?>


---
STUDENT
This delightful figure is held upright by his wheeled cases, but is propelled by the walking action of his legs. Always erratic, he scurries around, changing direction at complete random. This is probably the most entertaining of the reproductions in the Paya range. Clockwork, 7".
build_table('tricks',array('TX184')); ?>
Unusual movement, the arms turning at the shoulders to sweep broadly with the wood and straw brush. The movement is so powerful that the vibration moves him if he is not restrained. Clockwork, 10cm.
build_table('tricks',array('TX180')); ?>
---
CARRERA MOTORCYCLE
Clockwork, 17cm.
build_table('tricks',array('TX139')); ?>
---
COMPLETE TRAIN SET (1930)
Twelve-piece track, oval track, 77cm at widest; clockwork engine with coaches 39cm. Signals, and telegraph poles included.
build_table('tricks',array('TX100')); ?>