THINGS THAT FLY..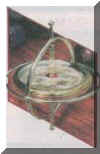 ORIGINAL GYROSCOPE
Still being made by the original manufacturers since 1917! Made entirely of metal (as per the original) this fascinating scientific item will provide hours of enjoyment for all ages. Supplied complete with stand, string and full instructions to perform some most fascinating feats that seem to defy gravity!
build_table('tricks',array('EP70')); ?>

Click image to enlarge
GIANT HOT AIR BALLOON KIT
Amazing new UK kit that builds into a fully functioning hot air balloon!
When completed the balloon measures 1.7 metres high and 4.5 metres in circumference.
An interesting project to build that should provide hours
of pleasure for all ages. Once constructed the balloon can be reused again (until you lose it!)
Easily launched over a small can burner, barbecue or fan heater.
build_table('tricks',array('HA1')); ?>
RADIO METER

Click image to enlarge
Perhaps the best of the scientific knick-knacks of the past and well overdue for revival! Fascinating, soothing and educational. In the vacuum inside the inverted bulb like container the vanes revolve, driven round by light particles alone! (each vane is black on one side white on the other)
build_table('tricks',array('SC120B')); ?>
DRINKING BIRDS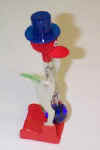 You must remember these, just stand beside a glass of water and the bird will 'drink' all the time their is water in the glass! Made of glass these are not a toy and not intended for children under 8. The liquid inside is flammable.
build_table('tricks',array('drinkb')); ?>

DIVINING RODS
Ever tried it? works for most people, you
can walk down the road and pick out all the individual water pipes for each house!
Nicely packaged piece of scientific equipment!
build_table('tricks',array('EF111')); ?>
The mirage

Click image to enlarge
Never has the line between reality and sensory perception been exposed with
such startling clarity. Mirage faithfully reproduces every molecule of the objects
you display. On a desk...a table.....or in your own hands
the Mirage should become one of the most baffling, attention getting, conversation
pieces you'll ever own or give!
build_table('tricks',array('MIR1')); ?>

Click image to enlarge
FLOATING MAGNETS
Interesting magnetic device consisting of 5 magnets on a free standing rod with base.
build_table('tricks',array('LOT89')); ?>
LARGE STUNT KITES TWO STRING

Well made stunt kite measuring over 1.5 metres! supplied in built form, just insert the struts and you are ready to fly. Rip proof fabric.
build_table('tricks',array('skt7')); ?>
THE AMAZING SUPER LEVITRON
It spins and surfs on magnetic waves.
You can pass your hand - above it - below it - around it -
and it still continues to float and spin. Suspended in mid-air!
Imagine...
You can levitate an animate object in mid-air.

Even the greatest magicians have had to use
trickery and deception to awe the public.

But YOU! -- YOU can actually levitate an object!
No strings, no lifting plates, just
the power of the human mind and the power of physics.
What You Get:
» The SUPER LEVITRON® device
» The Starter
» The Black Box
» The secret of the theory
» Complete instructions on how to perform this amazing feat
"NOW ALSO AVAILABLE"
Now you can take Levitron to the next leval with the amazing PERPETUATOR!
This special electromagnetic drive device works with the Super Levitron, allowing the top to remain levitated indefinately in space.
The PERPETUATOR creates magnetic waves which silently and invisibly spin the floating top at a rate of over 2.5 million revolutions per day!
Now you can levitate your top for hours instead of minutes!

build_table('tricks',array('lev5s')); ?>
build_table('tricks',array('levd')); ?>
RADIO CONTROLLED HELICOPTER
Air hogs sky patrol radio controlled helicopter
Flies over 50' (15m) high
Full radio control
Atitude and rotor control
Launch pad charging station
Brake for easy landing
Charges in minutes
Flies and hovers like a real helicopter
40MHZ
Includes Ni cad battery pack (You will also need 6 AA batteries for the controller)
Flight time up to 2 mins
Helicopter measures approx 50cms
Control range of the helicopter is up to 100 metres, do not fly on windy days!
To launch and fly higher just pull the trigger inwards, the harder you pull the higher it will go
To change direction just ease of the trigger the helicopters tail rotor will then rotate the helicopter, when the helicopter is pointing in the direction you wish to go pull the trigger again.
build_table('tricks',array('heli2')); ?>