Spotting scopes
The Yukon 100X is a revolutionary new spotting scope with unique optical characteristics – it has two optical channels, 6-25 x 25mm and 25-100 x 100mm. This is the first spotting scope on the market using this system and that will deliver magnifications from 6x to 100x without the need to change eyepieces. The excellent light gathering capabilities of the 100mm multicoated objective lens makes the picture clear and bright in most viewing conditions. A slight drop off in image quality has to be allowed for at maximum zoom due to the extreme magnification.

The unit's body shell is rugged, weather resistant and, considering the high magnification range, is relatively compact and lightweight. The angled, rotating eyepiece allows use when you are unable to align your viewing position with the scope, such as when lying in a prone position. A lens hood is supplied to reduce flare and protect the front element from rain - it is reversible when not in use.. Fitted with a tripod socket, a sturdy tripod is essential for maximum performance at high magnification.

Includes a shoulder case.

You will need a good steady tripod like this one!
A lightweight, full height tripod that will accept all scopes up to the 100X.

Features include a 3-way fluid effect pan head, 1/4" Whitworth quick release plate with metal video spring pin, 3-section legs with quick release locks, elevator crank and tension control for the centre column, a large pan handle, lockable centre brace and built-in spirit level. A lightweight, full height tripod that will accept all scopes up to the 100X.

Features include a 3-way fluid effect pan head, 1/4" Whitworth quick release plate with metal video spring pin, 3-section legs with quick release locks, elevator crank and tension control for the centre column, a large pan handle, lockable centre brace and built-in spirit level.
65X105X90mm 700g

Minimum Height: 60.5cm

Maximum Height: 164cm
build_table('tricks',array('cob21031','cob30010')); ?>

Astronomical Telescopes and Accessories
Helios Astronomical Telescopes
Helios Newtonian Reflectors - Explorer-114 (114 mm (4.5") F/910) Newtonian Reflector Telescope with D.C. Motor Drive


114mm (4.5") Newtonian reflector with motor drive Explorer-114


The Explorer-114 is an excellent introductory instrument for the more serious novice astronomer,
providing a superb combination of performance, functionality and affordability. Supplied with a
comprehensive selection of standard equipment for increased versatility, including a Multi-Speed
R.A Motor Drive for automatic electronic tracking of celestial objects. The motor drive
operates from 4 x 1.5v Type D batteries (not supplied). Securely mounted on the EQ-2 Equatorial
Mount for excellent precision and stability. This telescope is suitable for short exposure
astrophotography.

Standard Specification:
Magnification Range x45, x91, x182
Diameter of Primary Mirror 114mm
Telescope Focal Length 910mm (f/7.98)
Eyepieces (1.25") 10mm & 20mm Super-MA
Diffraction Limited Optics
x2 Barlow Lens
5x24 Finder scope
EQ-2 Equatorial Mount
Single-Axis D.C. Motor Drive with Hand Controller as well as manual slow motions
Aluminium Tripod with accessory tray
build_table('tricks',array('EXP114')); ?>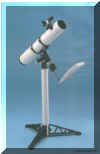 Click image to enlarge
TAL-1 Newtonian reflector telescope
The TAL-1 is a high quality telescope of traditional design,
packed with an impressive array of features and refinements to tempt even the discerning astronomer. Manufactured to very
high optical and engineering standards, the TAL-1 combines both excellent optical performance together with an extremely
robust and thoughtfully designed mechanical layout. Delightfully smooth manual slow motion controls and a rock
steady pedestal base ensure complete operating stability. Mag range x32,x54,x96x169, 110m dia primary mirror,
x3 barlow lens, Kellner and Symmetrical eyepieces, Achromatic finder scope, 805.85 focal length, camera mount bracket,
filters, 885x800x1650mm 20kg.
build_table('tricks',array('TAl-1')); ?>
ZENITH STM-1 x20 STEREOSCOPIC MICROSCOPE
A routine inspection microscope combining high optical quality with robust, reliable construction and simplicity of operation, making it an extremely useful tool for use in Industry, Field Study Centres and throughout education from Primary level upwards. Particularly recommended for the younger user for the examination of everyday objects in fascinating yet 'understandable' detail. Magnification x20 • Paired xl0 Widefield Eyepieces (Locked-on) with Rubber Eyecups Achromatic Objective Pair x2 • Field of View 1 Omm • Working Distance 7Omm • Dioptric adjustment provided on left eyepiece tube • Stereo Head Height adjustable on column to accommodate specimens of varying sizes • Rack and Pinion focussing • Adjustable Inter-Pupillary Distance • Black/ White Reversible Stage Plate • With Stage Plate removed, the microscope can be used to examine specimens too large to put under the microscope . Locked-on Stage Clips Supplied In polystyrene pack Height approx 300mm Weight approx 1.45kg. Microscope.
build_table('tricks',array('STM1')); ?>

TAL-2M l5Dmm (6inch) MOTORISED NEWTONIAN REFLECTOR TELESCOPE
The TAL range is headed by the TAL-2M. Its impressive specification features a superb 6 inch primary mirror, multi-coated eyepieces & finderscope and extremely robust mechanical construction. Exceptional optical performance and reliable user-friendly operation make the TAL-2M an excellent choice for the serious amateur astronomer. Standard Specification Magnification Range: x28, x48, x80, x111, x190, x315 Diameter of Primary Mirror: l50mm Focal length of Primary Mirror: l200mm (f/8) Eyepieces supplied: f = 15mm (Kellner), f = 25mm (Symmetrical) & f = 42mm Eyepieces provide: x28, x48 an x80. x4 Barlow Lens supplied. Barlow Lens with eyepieces provides: x111 (f = 1 0.76mm), x190 (f = 6.3) & x315 (f = 3.8) Rack & Pinion Focusser Fully adjustable Mirror Cells. Telescope Tube rotatable 360 in mount for comfortable viewing. Pedestal Mounted Equatorial with electronic motor drive and manual overrides. Range of Slow Motion Controls +/- 4 deg relative to declination axis .Complete with PSU. Stable, heavy duty Pedestal Stand with built-in vibration suppression pads 8 x 50mm Achromatic Finderscope, field 7deg 08', in centring mount. Crosshair Eyepiece Reticule. Light Filters supplied: blue, red, green, yellow & neutral grey (lunar) Sun Projection Screen. Camera Mounting Bracket. Overall Dimensions: 1160x915x l700mm Weight approx: 40kg. (max.)
build_table('tricks',array('TAL2M')); ?>

1350 magnification Professional biological microscope.
BIOLAM S 20
High quality precision ground lenses provide excellent performance.
Ideal for A level biology and routine medical applications Magnification range x63 to x1350
Planachromatic objectives x9, Achromatic x40. Coarse and fine focussing, rotating monocular head,
plano concave mirror, compensating eyepiece, 220 x 130 x 310mm, 3kg.
Supplied with substantial wooden carrying case fitted with lock and handle.
build_table('tricks',array('MIC2')); ?>

MBS-10 STEREOSCOPIC MICROSCOPE
For the examination of specimens in three dimensions by reflected or transmitted light. This is a full sized
professional microscope of exceptional quality and versatility. Fully coated precision ground optics through-
out. Magnification range 4.65-100.8 (x201 magnification achievable by using optional x2 converter), paired wide
angle eye pieces x8, x14 plus single x8 micrometer for measuring, objective pairs x.6,x1,x2,x4,x7, constant
working distance 95mm, field of view 2.4-35mm, black/white/glass stage plates, 20w illuminating lamp
(adjustable), dust cover, wooden case. 251x154x456mm 8kg. 95/300
build_table('tricks',array('BAR65')); ?>
2x converter to double the power
build_table('tricks',array('TT1')); ?>
---
NITROGEN FILLED WATERPROOF
HELIOS BINOCULARS
Top quality binoculars with superb performance roof prism design with fully coated optics.
Two models available, both 10 x 25 (10 times magnification, 25mm lens), both rubber coated.
10 x25 helios (standard)
build_table('tricks',array('RP4')); ?>
10 x25 Helios (w/proof/nitrogen)
build_table('tricks',array('RP2')); ?>
Lunar cadet II refractor astronomical telescope
900mm focal length, 60mm objective, equatorial mount, tripod, 36-300 magnification.(100x optimum) x3 barlow, sun screen, 9 and 25mm eyepieces, 5x24 finder scope Perfect starter astronomical telescope.
build_table('tricks',array('LCII')); ?>
---
HIGH POWER HELIOS BINOCULARS
These binoculars have precision ground fully coated optical glass lens which give a sharp and clear image. With their shock
resistant caged prisms, centre wheel focusing and adjustable right eyepiece they are engineered to the highest standards.
Supplied with carrying case and neck strap.
Specifications
20 x magnification, 60mm objective, 3 deg field of view, field at
1000m 63m, 260 x 215 x 75mm, 1.4kg (ex case)
build_table('tricks',array('HPH1')); ?>
pocket spy monocular
This clever folding monocular is easily concealed in the palm of your hand so is very discrete in use. Made by Helios the optics are excellent and with a very useful specification of 8x21 with a 6.5 degree field of view. Supplied with leatherette case with belt attachment.

build_table('tricks',array('monoc')); ?>
helios brass telescope
These brass draw telescopes have a smart leatherette casing and a specification of 15x30 making the ideal for long range observation. Supplied with a zipper leatherette case.

build_table('tricks',array('tele33')); ?>
Dynamo flashlight

Interesting concept, this torch has no batteries, just squeeze the trigger for instant light when ever you want it! We have been told these even work under water!
build_table('tricks',array('SC152')); ?>